Staying Neutral in a Crisis
Noriko Ogawa, the Managing Director and Investment Director at the Benesse Group Pension Fund in Okayama, Japan, is used to crisis. After all, she assumed her current role just before the Lehman Brothers bankruptcy triggered the Great Financial Crisis, and now she's managing through a global pandemic. Benesse Group, whose DB pension assets total JPY 23 billion ($209 million), is a Japanese company whose name incorporates the Latin words "bene" (well) and "esse" (being).
The Benesse Group tracks its history back to 1955 when the company was founded as a publisher of educational materials. Since the mid-2000s, its pension portfolio has evolved from a passive, stock-and-bonds investment approach to a more diverse asset allocation, and its services have expanded to include educational facilities, nursing homes, and childcare services.
Ogawa began her career in 2001 at the Benesse Mutual Air Club, a welfare foundation, where she was an accountant, before she moved to the company's pension fund in 2005 and became managing director in 2007. In the current pandemic as in previous crises, she invests with a focus on expanding her knowledge through first-hand experience, staying objective, and guiding the process of change through self-examination and self-discipline.
Ogawa gives us a glimpse into her story for Allocator Intel's 1st Annual Top 50 Women in Investment Management.
Can you give us a sense of the overall asset allocation and how has this changed? 
Our basic portfolio is: bonds 35.5%, equities 11.5%, general accounts 18%, and alternatives 35% (including hedge funds 5%, insurance-linked securities 5%, and low-liquidity assets 25%. Assets are managed externally, and the number of external managers is about 20 or more, which changes little by little. Over the last three years, changes in asset allocation have halved stocks, while we have also been increasing private investments, including private equity, real estate, and infrastructure.
Is your organizational structure at the pension fund headed in any new direction? 
Not at the moment, but we keep in mind that change is always happening. The impact of the pandemic has been minimized by increasing private investment, and it is subordinated by the subsequent rise in the open market. It is accepted as a result of building a portfolio aimed at controlling negative risks.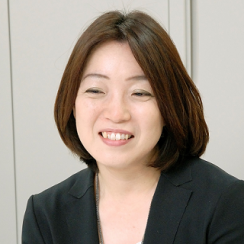 What has it been like being a women in the investment world? Moreover, what should be done to alter the role of women? 
It's more about accepting the world of investment than thinking about whether I'm a woman. However, there are still only a few women who are directly involved in investments in Japanese corporate pensions, so there is room for more women to join.
We need an environment where each person's characteristics can be utilized. We should respect what each person can do.
What are the biggest barriers you have faced in your career? Has being a women impacted your experience in your career? 
When I started to take charge of investments, I was overwhelmed by the small number of women in charge of asset management on the corporate pension side in Japan. More than 10 years ago, when I attended a seminar for 100 people at that time, I was shocked that there was only one woman. The biggest barrier was wondering if I wanted to stay in the seminar, rather than influencing my career.
Is female leadership important? 
Leadership is the ability to be prepared regardless of gender. However, if there is an increase in the number of female leaders, and the world does not feel uncomfortable with having more female leaders, then this should be a guide to the younger generations.
Is diversity important? 
Diversity is important in any form, and it is thought that prioritizing not only the difference between men and women but also the difference in thinking and the difference in working style will lead to the creation of new ideas and the activation of the team by tapping many perspectives. The important thing is how to organize diversity and balance each other's respect.
What advice do you have for women aiming for leadership positions? 
It is important to create a space where we can respect each other and have the strength to grasp the big opportunities.
What are key leadership lessons you've learned along the way? 
Be the person who says what needs to be said at the right time.
Do not overwork.
What advice would you give to your younger self?
"Don't worry. Take it easy!"
What are you looking forward to in the future? 
I want to enjoy accumulating; little by little without missing the chance to take advantage of daily changes.
Tell us about your background 
I was born and raised in Okayama, the capital city of Okayama Prefecture in the Chūgoku region of Japan. Concerning family, I am the mother of two grown children.
My previous job was in Accounting at an automobile-related company. I worked there part-time to focus on raising my children for several years, then I joined the Benesse Group.
How and why did you get interested in finance and investing? 
Before I became interested in finance, the idea of investment was far away because of the image that many Japanese people have of "stock investment = loss." However, when I transferred into the corporate pension fund, I was inevitably involved.
What do you do in your free time?
My hobby is calligraphy. Every year on January 2, the first day of writing in Japan (when one commits to a goal or ambition for the year by declaring it with a calligraphy brush), I start writing the thoughts of the coming year in one kanji (Japanese character) and spend a year with this.
Have you had any major influencers?
Mr. Howard Stanley Marks, the co-founder and co-chairman of Oaktree Capital Management, the world's largest investor in distressed securities. Marks's book "The 20 Most Important Teachings" was a book that I found useful because he has some very interesting ideas about investing.
What is your personal mantra? 
I value the Zen word "Reidanjichi (冷暖自知)" and the idea of "Being neutral." "Reidanjichi (冷暖自知)" means "Check by yourself whether it is cold or warm," which translates to understanding by experiencing it yourself, as experience is important in order to connect information to knowledge. The concept of "Being neutral" leads to an objective view for various aspects and avoids distorting judgment, and the experience "Behavioral transformation" is to know yourself, change yourself, and change your behavior. Personally, I value this kind of thinking.
To discuss the content of this article, further engage with the author(s), or gain access to like content Join The Conversation Here if you are a member of the group, or Request Membership.