Value of Resilience
Women seeking a role model shouldn't look at Neeti Bhalla Johnson's achievements. Yes, she's executive vice president and CIO of Liberty Mutual Insurance, perhaps the only female CIO at a major insurance company in the U.S. And yes, she is an Indian immigrant who grew up in Kenya and spent two years as a Rhodes Scholar at Oxford before becoming a pillar of the U.S. establishment: She's on the board of the Peterson Institute for International Economics and the Rhodes Trust, and she serves on the International Council of the Belfer Center for Science and International Affairs at Harvard University's Kennedy School, as well as being an honoree of the Foreign Policy Association. Oh, and she's also the mother of adorable 12-year-old twin girls, Alyna and Riya. 
But, as she is the first to point out, what may be more instructive is that she did not score high enough on tests to get into law school in Kenya nor get hired by PWC and she admittedly "self-destructed" at a job interview with McKinsey & Company, the management consulting firm. Bhalla Johnson exemplifies the value of the resilience that women – and men – can marshal to turn disappointments and adversity into accomplishments and recognition. To get ahead, she insists women need to "put ourselves out there" rather than "waiting to be asked."
These days she oversees the investment of the $85 billion general account of Liberty Mutual, a 109-year-old property and casualty insurance giant based in Boston and active in 30 countries around the world. She also oversees nearly $10 billion in the company's pension fund. She heads a team of more than 250 investment and operations professionals that shepherds a portfolio spanning a broad spectrum of global public and private markets.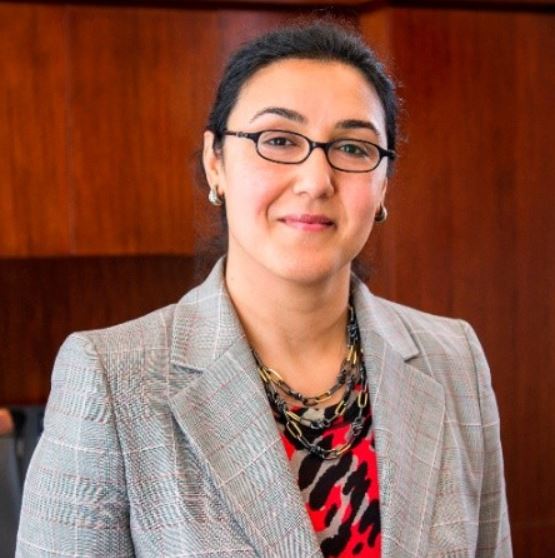 As befits a P&C insurance company, Bhalla Johnson says Liberty's general account is primarily invested in fixed income, with a sizeable allocation to growth equity assets. She adds, "Since Liberty is a mutual insurance company owned by its policyholders, that gives us the flexibility to focus beyond quarterly returns and take a long-term view on strategy, risk appetite, and investments." Thus, "we focus on preservation of capital first and then growing that capital in a prudent manner," she says. Although insurance company investment portfolios must strive to stay within the guard rails imposed by both regulators and rating agencies, "We don't feel constrained," she says. "But we absolutely consider and manage the parameters within which we need to operate."
The Liberty Mutual general account "has been on a journey" since Bhalla Johnson arrived. One reason is that the company used to have a bigger book of life insurance in addition to the P&C book, but the company shifted focus. But the biggest reason for the portfolio changes is her belief that "what got us here is not going to get us there."
As she sees it, "insurance companies have been addicted to bonds historically because they were effectively an insurance policy that paid you a high yield asset with hedging capabilities – so, why wouldn't you get drunk on those all day long?" But given "where yields are and where spreads are these days," she moved the portfolio from a buy and hold strategy on bonds to a focus on optimizing total returns a few years ago. "We felt it was important to think differently about the portfolio," Bhalla Johnson says.
A second belief is that "the line between public markets assets and private assets is blurring. Investment businesses tended to be very siloed," she says: 'We had public market investment grade, leveraged finance, and private market teams, but they barely talked to each other.'" Bhalla Johnson's "core belief" is that those siloes now get in the way of effective sourcing and for the whole portfolio."
The rise of private markets has befuddled some investors, but not Liberty Mutual. After all, it's been in private equity and venture capital since the 1980s, she says. Moreover, Bhalla Johnson notes, "We started doing private credit in 2014, so we're not new to private debt. We have been increasing our exposure to private markets in the last five years or so because we believe we can capture a liquidity and complexity premium."
A third guiding belief is that fundamental economic models are being challenged. The post-World War II paradigm was great while it lasted, but now everything from technology to demography is changing dramatically. "We're in a fundamental transition period," she says, "and transitions by nature tend to be volatile. So, until you find the new regime, you have to be more thoughtful about volatility and about where you want to place your bets."
Bhalla Johnson believes these macro-level changes call for a portfolio and a team that is more flexible, fast moving, and forward-looking. To this end, her team is very focused on such areas as energy transition, and the evolution of "green" finance – plus digital finance. She's convinced, "digital finance is going to change how we invest and, really, the entire financial services industry."
Bhalla Johnson is a believer in active management for fixed income, but "on the equity side, "we made a choice that we will take our public equity exposure passively, and where we take the active equity bets is in the private markets." While the fixed income is all run inhouse, there's close to 200 external managers for private markets across equity, credit, real estate, and energy transition.
Organizationally, since she arrived at Liberty in 2013 and became CIO in 2016, "The biggest transformation is a move to a one-portfolio, one-team mindset," according to Bhalla Johnson. She says the emphasis on breaking down siloes grows out of her learnings from social anthropology, how she was brought up, and her 13 years' experience at Goldman Sachs. After Oxford, she spent a few years as an investment banking analyst in Goldman's London office, and then moved to New York in the asset management division. "What I learned at Goldman was how to build high performing teams singularly focused on a mission," she says. But Bhalla Johnson also says, "I have seen the impact of siloes, and how they can get in the way of delivering the best outcomes for clients."
She's very conscious of being a rare C-suite woman in insurance. "In the asset management and investment industry women have become more visible, but there's a dearth of women in CEO seats and running businesses, and we've done a much better job in promoting and retaining white women than women of color, so there's a long way to go," she says. As for the insurance industry, "it's even further behind".
She's eager to change the picture. Bhalla Johnson was an early supporter of WE@Liberty, the women's employee resource group, which seeks to recruit, mentor and empower women, and, she adds, "to engage men" as allies in order to enrich the work environment. "That's a clear focus within Liberty Mutual. I feel we're further ahead than our peers, but we also have a long way to go." She also co-leads LEAAP (Leading & Empowering Asian & Ally Professionals), another resource group that aims to support Liberty Mutual in attracting, advancing and retaining Asian employees, while supporting the Asian community through service.
Bhalla Johnson has come a long way from her native India. Her parents were both teachers, and when Bhalla was eight, they left India and moved to Kenya, joining the sizable Indian diaspora in East Africa. She went to Kenyatta University in Nairobi, earning a bachelor's degree in economics and finance. At that point, "I wanted to be a lawyer," but she missed passing the law school exam by one point. However, she says, "I've always been interested in finance and economics," so she talked herself into an internship at the Nairobi stock exchange, followed by a job at the Central Bank of Kenya. Then, "just as my mom was trying to get me married off," she became one of the two students chosen each year in Kenya for a prestigious Rhodes Scholarship, and she went off to Oxford where, among other life-changing experiences while earning both an MBA and master's degree in social anthropology, she met her husband Christopher Johnson.
In off-hours, Bhalla Johnson says, "Cooking is my place of Zen. I love cooking; I love feeding people." When she moved from New York to Boston, her mother moved with her, as did her brother and sister-in-law. Bhalla likes "just hanging out with my family. Family's a big part of who I am, and cooking is a big part of that." She's an enthusiastic traveler, noting that "it's amazing how food and travel are so symbiotic," she says.
She's also an avid reader with wide-ranging tastes. Recently, she's been steeped in Walter Isaacson's biography of Leonardo da Vinci. She describes herself as someone who believes "everything's transitioning," and says, "you can't just read about economics. I really believe in multiple disciplines, and one person in history who's really influenced how I think, and feel, is Leonardo da Vinci. There's something about this guy who refused to be constrained by one discipline and thought across things and connected the dots."
Bhalla Johnson has been profiled in Working Mother magazine, which lauded her ability to juggle major responsibilities at the office and at home. Wherever she goes, it reported, her bag usually contains both some work-related reading material and some crayons for her kids.
That mix is indicative of the unique skills many women have, skills like multitasking and relationship-building, that are increasingly crucial for managers. "We're going to need more of those skills," she says, "so how do we not only bring them to the table but have them contribute in a significant manner? Recognizing, and harnessing, these qualities is critical."
To discuss the content of this article, further engage with the author(s), or gain access to like content Join The Conversation Here if you are a member of the group, or Request Membership.