Log in
to post comments
Empowering Diversity in Thought and Experience
Part I
Katarina Storfer, Managing Director and Global Head of Investor Relations at Institutional Investor, opened the Inaugural Women in Investment Management Roundtable by explaining that it was created to offer "an opportunity to discuss themes and concrete steps that allocators and consultants are pursuing to promote a truly diverse and inclusive work environment."
Fran Cashman, CEO of the Asset Management Division of Euromoney PLC, the parent company of Institutional Investor, welcomed Roundtable participants and recounted her own experiences in seeking to increase diversity at her previous employer. She said, "It takes constant business decisions to promote diversity, equity, and inclusion. And it takes all of us." Cashman noted the variety of diversity initiatives underway in the asset management industry, and added, "by coming together here today and sharing what we know and experience, and sharing programs and ideas, this can accelerate creating an easier path for those women that come after us, but also for all underrepresented groups."
Roz Hewsenian, the Chief Investment Officer at the, Helmsley Charitable Trust and chair of the Roundtable, said that with regard to diversity and inclusion it is important to remember, "We are truly interested in equality. We really want to be treated as equals," no less, and no more. She added, "I learned early on in my career that it was critically important never to wear my gender on my sleeve, and a reason why is that it's a quick path to self-victimization. Just because something is happening to you, don't assume it's because of your gender."
Hewsenian also said that diversity in finance "is facing an uphill battle" because of widely held negative views about the financial world. "Why would young women want to choose finance as a career? That's the obstacle we're really overcoming," she said.
In seeking to bring women into finance, Hewsenian pointed out that there are many "nontraditional candidates who have no life experience with our occupations at all. There's nothing in their background that would ever cause them to come across someone in finance – even in the city of New York, where Wall Street is down the street." Consequently, "One of the things that I do is I talk to the young women in my family: I start by saying, 'Do you know what I do for a living?' and then I explain it to them, at a time when they are in sixth or seventh grade so that that they understand that a career in finance is something that's available to them."
She added, "I also talk to the neighbor kids, and I have conversations with the supermarket cashier who's working a part-time job, and I explain that I started just as she did as a cashier, and now I'm in the finance industry. It's all about money, whether you start out giving change for a $20 or investing a multi-million-dollar portfolio." She urged Roundtable participants to volunteer to speak at local high school career days. "That is one of the most rewarding experience you could have," she said, adding, "If your local high school doesn't have a career day, suggest to the guidance counselor that they have a career day for nontraditional occupations and lead the charge."
To set the scene for the ensuing discussion, moderator Harvey Shapiro of Institutional Investor asked participants to respond to several polling questions. The responses to these questions indicated that Roundtable participates believed that women were making much more progress than were racial and ethnic minorities or members of the LGBTQA community in terms of diversity and inclusion.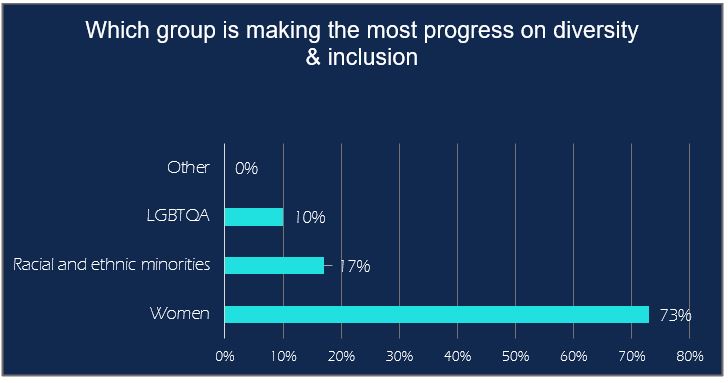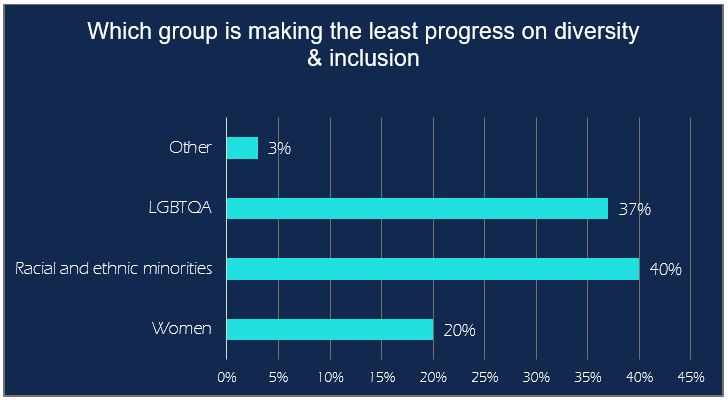 Another polling question showed that 40% of participants believed their colleagues in middle and upper management were the most critical force in pressing diversity and inclusion issues, while 23 ascribed this role to boards and investment committee and 13% said that it was the CIO who was most pivotal.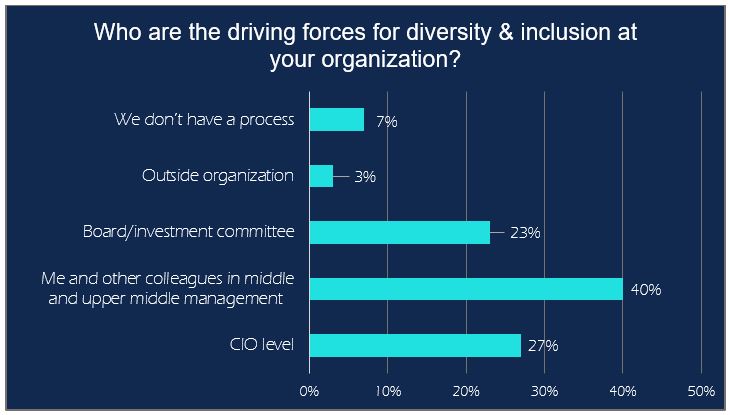 Lisa Laird, a Principal and Senior Advisor at Hightree Advisors, sought to explore the dimensions of the diversity and inclusion efforts by asking various Roundtable participants to share their views on these issues.
Sally Bridgeland, a pension fund trustee as well as Senior Adviser at Avida International in the UK, framed the case for diversity in terms of portfolio theory: She argued that "excellence isn't possible without inclusion. In terms of the efficient frontier and maximizing efficiency, you don't make a portfolio a single stock or a single sector. That would be suboptimal. To get us to an efficient workplace and an optimal workplace, we need a mix of people."
Bridgeland warned about people who "have been isolated from the sobering and invigorating effects of blending and mixing with other people." She added that many of the men on the boards that she sits on hold certain views "because that's the way they were brought up." Changing their mindset is "a particular challenge," she said, but she also views it as an opportunity because "being a 'deliberate amateur' helps me help those who are unable to see their biases or their own assumptions about how they are working and behaving, helping them to be deliberate amateurs, too."
In pursuing diversity, she added, "The biggest ingredient to me is empathy. She contended that "the greatest thing you can do with your board members and top teams within an organization is really try to understand why something is difficult for them, and then help them make it easy." The goal is to enable them to imagine that "there are a lot of talented women out there. There are girls who can do math, who can do asset management, and it would be great to welcome more of them into our workplace."
Kelsey Deshler, the Chief Investment Officer, Carleton College, pointed out that differences in perspectives about diversity often depend on an individual's particular work history: "I had the benefit of starting at a workplace where I had two female leaders, two female managers, and that was my first foray into finance," she recalled, "so I just figured that the whole industry was pretty diverse. I quickly learned that we were a minority in the grand scheme of things, especially when it came to actually managing assets."
Geraldine Jimenez, the Director of Investment Strategy and Risk at CalSTRS (the California State Teachers Retirement System) pointed out the differences in perspective at different levels of an organization. At CalSTRS, she said, the drive for diversity "is coming from the top. We serve California teachers, and our board has teachers on it. Over 70% of our members are women," and "they assume that the world ought to be diverse and inclusive." In addition, "Our senior leadership is half-women, half-men." Meanwhile, "Our incoming staff is also very diverse," she said. The challenge, Jimenez added, "is the midlevel." Even there, she added, "it's changed over time. There are so many men and women that are supportive and understand that diversity in staff brings diversity of thought and better decisions."
Among CalSTRS efforts on diversity, she said, "We have day-long events where we spend a lot of time on unconscious bias because all of us think certain ways, whether we know it or not. And we analyze structures that make it difficult for women to progress. I think expanding that conversation and partnering with various groups is how we're going to make it to the next step."
Roundtable participants agreed that the diversity struggle is also shaped by the attitudes and aspirations of women. Annabell Siem Mathiesen, the CEO of Mercer, Norway, said, "I grew up with a lot of males around me. My father had five brothers. But we had a very strong grandmother. She had little formal education, but she insisted that she would "never stop learning," Mathiesen recalled, "and that has been something I grew up with, and I applied that mindset." That has been coupled with an awareness that "I have a voice and I can make a difference in the role that I currently have," Mathiesen added.
Brandon Gill New, the Senior Portfolio Manager in the Capital Markets Group overseeing external public investments at OPTrust in Canada, said that her organization manages about C$23 billion in pension assets for 90,000 members. "Our constituents are mainly those who work for the government of Ontario, but a few years ago, we launched a pension program for people who work in the not-for-profit sector, which has a high proportion of women, and diversity is one of the issues we really care about."
She added that "in my career, I've really only been managed by men, so I did not actually have female mentors or sponsors, but I had some really great male sponsors." But Gill New said, "What I feel strongly about" is that when women come into finance, the women already there "need to target them, support them, and mentor them, so that the path is a lot easier for them, and they have the confidence to be successful."
In order to move forward, she added, the impetus "really has to come from the core culture of the firm. I've worked at different places where that just hasn't been the case, but what I think is really important about OPTrust is that the CEO feels really strongly about this. Our CIO and our board feel really strongly about this as well, and our chair and the deputy chair, are both women, and so, I think the driving force really comes from leadership first and then filters down."
While much has been happening at OPTrust, she said, "I think there's more that we will be doing and can do," and she added, "We have a diversity inclusion council that's chaired by the executive team, and that really brings discussions to the forefront." She noted that OPTrust had recently hired "our first ever diversity-equity-inclusion director, and she said that "for a firm our size, that's a big step, and we're really excited. That person is going to help identify and develop strategies and frameworks for us."
Jimenez said that at CalSTRS, "I think that's one of the biggest things we can do for the pipeline and the industry in general is, because we are the LPs, we are one of those the asset managers do listen to, and they've told me this on the side – some women have come up to me and said, 'We're so grateful to you that you are asking these questions of our senior leaders because it's sending a message.'" She added, "We can't expect change tomorrow, but if we're sending a message that it's important."
An electronic poll of Roundtable participants revealed that near half had engaged in "serious conversations" and messaging with external investment managers with regarding to diversity and inclusion issues, while 13% had "created specific evaluation criteria" related to D&I.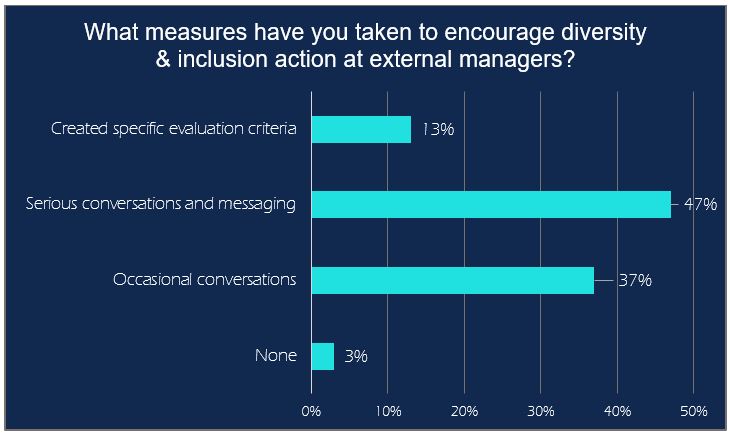 In order to have an impact on external vendors, including asset managers, Bridgeland argued, "It's important to ask serious questions when you're the chair of an organization." She also said that she endeavors "to make sure that the measures, the metrics, that we're using are not just about the numbers. We're not just trying to be bean counters; we're looking forward and saying, "'It's not just about recruiting; it's about retaining and building that pipeline.'"
She emphasized the importance of "one conversation at a time, one meeting at a time" in making the case for diversity, and added, "What we can do as chairs and as participants in roundtables is to make sure everybody's included, and frankly, it's not just about the women. There are quite a few men who need a bit of encouragement in coming forward. But being an exemplar and a role model in helping people find their voice in those situations, I think, introduces help with that neurodiversity and means that people are not feeling that it's not all about women." She endorsed Hewsenian's opposition to "wearing your gender on your sleeve – that's not what this is about," she said, adding, "You won't get that excellence just by having women that behave like men in the workplace.'
Deshler pointed out that the size of an organization makes a difference. At Carleton College, she said, "We're in a position where the investment office is quite small versus these other organizations." She said that larger organizations have "armies of recruiters and people involved in the recruitment process" because there are lots of jobs to fill. And they also have "a lot of brand of recognition," she said, adding, "Carleton is an amazing place, but one wouldn't wake up, thinking, 'I want to be in finance, and I'll go to work for the Carleton College Investment Office.'"
As a result, she said, recruiting offers challenges. "We have recruiters of course, but their experience is in recruiting administrative staff and faculty," and not financial professionals, "so we have to be a bit more creative. What we're trying to do is build a team at the analyst level." And for that, she said that she is "working with younger women, and really helping to impart and communicate the benefits of working in finance and investment management that we all find, which is tricky because its reputation hasn't been the strongest."
Another aspect of these efforts to enlarge the pool of potential candidates and employees, she said, is "trying to encourage our students to look at the investment club, which is heavily dominated by men. So, my colleagues and I have joined investment club meetings to talk to them about what we're doing and how to really spread the word and incorporate more diversity into just that piece."
She said, "We want our investment office to reflect the community of Carleton and the student body, which is now over 40% female – and close to 50% if not higher in certain classes."  But "this is tricky when you only have five slots, and each spot is very important. I think one thing to tack onto what Geraldine Jimenez was saying is to look at recruiting from different angles and levels: At the analyst and associate level, I've found that it's easier to attract and retain diverse talent. It's at the senior level – director, managing director, even higher-level VP attribution at a financial institution – where you start to see a lot of women falling out."
According to Deshler, "One of the major reasons is on the childcare and having-children front. And so, what we have tried to do – and I am a working mother – is to provide more flexibility." When recruiting staff, she said, "When I talk to some of my friends in the local community and say, "it's really flexible," they're like, 'Oh, then I know a lot of people who'd be interested.'"

To discuss the content of this article, or gain access to similar content Join The Conversation Here if you are a member of the group, or Request Membership.