Log in
to post comments
Trading Marx and Engels for Venture Capital and Private Equity
As a child, Valbona Schwab hardly seemed destined for the investment world. She grew up in Albania at the end of its communist era, and "I was a blank slate when it came to stocks and bonds." To this day, she says, many of her countrymen regard securities markets as a casino, and their idea of investing is to "buy an apartment; buy land; buy gold."
But Schwab became a managing director at the Beth Israel Lahey Health Investment Office in Boston, where she helps invest what is thought to be several billion dollars in an assortment of stocks and bonds, private equity, hedge funds, venture capital, and whatever else looks good on the capitalist menu du jour. The Beth Israel Lahey Health Group (formerly known as CareGroup) manages the portfolios of Boston's Combined Jewish Philanthropies and the Beth Israel Lahey Health System (BILH), a confederation of major Boston-area hospitals.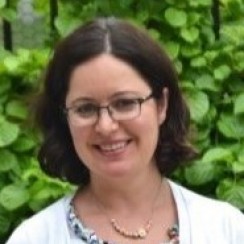 Since first coming to the U.S. as a college student in 1995, Schwab has not only moved past Marx and Engels, but also beyond her male-dominated upbringing. "I grew up surrounded by male cousins – 16 of them – and they used to play card games, but girls were not allowed to play," she recalls. However, "because I brought them snacks, I was allowed to watch the games, and I learned the rules. Periodically, if one of the cousins would get called away by his mother, I would substitute for the missing player. They discovered I was good at those games, and soon I got asked to play in my own right. I was good at strategizing, and I learned early on about risk and about how to use the strengths that I had."
Another lesson Schwab learned in Albania is: Don't be afraid. Although the BILH board is dominated by several Masters of the Universe from Boston's massive financial community, she's not daunted: "People don't scare me. When you've lived through civil war," as she did in Albania, "you don't get scared easily."
Schwab is part of the six-person investment staff that runs a unique pairing of two separate but identical portfolios. One is for the Combined Jewish Philanthropies, Boston's equivalent of the local Jewish Federations set up in cities across the country. These began to be created a century ago, when the numerous Jewish charities in each town agreed to join forces to run one, annual fund-raising drive, create one endowment, and have one committee disperse funds. The model has been copied in many cities by Catholic Charities and various Protestant federations.
BILH's other client, Beth Israel Deaconess Medical Center, is one of the largest hospital groups in New England. Beth Israel Hospital was set up in 1916 to serve both observant Jews, who sought kosher food when hospitalized, and Jewish doctors who often faced discrimination at other Boston hospitals. Meanwhile, Deaconess Hospital was set up in 1896 by women in the Methodist Church's Deaconess movement. As part of the national wave of hospital consolidations, those two merged in 1996 to form BIDMC, and in 2019 they merged with Lahey Health, bringing into the fold several more hospitals in Boston suburbs, including New England Baptist Hospital. Schwab (who is neither Jewish, Methodist, nor Baptist) says all the hospitals are now non-sectarian.
What was formerly called the CareGroup office was set up in 2009 to provide more professional investment management for these two pools of capital, which were yoked together because many of the same local leaders on the Combined board were also on the Beth Israel Deaconess board.
Schwab says there's no formal asset allocation process. They take a bottom-up approach. "We're looking to invest long-term in talented people, without regard to buckets or labels," she says. Schwab adds that her "mission" is "to find funds and investments that are managed by people who view themselves as business owners, because this is how you don't become complacent or risk-averse. "You're not invested with people who follow the crowd. We're looking for people who do their own research and have their own convictions."
That approach is "fully aligned with what I believe," Schwab says. Her first job was at the Albanian American Enterprise Fund, a private equity fund created by U.S. AID (the Agency for International Development). There she learned to bet on managements. While the BILH Investment Office is always cognizant of macro-economic developments, she says, "you filter it through talent and structural balance: Does a manager have an edge, and is that edge sustainable?"
In thinking about asset allocation and manager selection, Schwab says, "There's always some shiny new thing that will be the answer to whatever fears you have as an investor." These days, for example, BILH is thinking about non-US exposure and biotech, among other things. But she emphasizes it all comes back to people: "We find interesting things, but it's not because we're looking for the interesting or the new; it's because we're looking at interesting teams. The fundamental principle is to look for talent."
At BILH, she says, "We're generalists by design, but each of us has some areas that we prefer. So, I have a colleague that does a lot more on the private equity side; I find myself drawn to investment opportunities outside of the United States, and I try to cover both illiquid and liquid securities; and another colleague spends time on hedge funds." But, she adds, "When we invest, we discuss ideas as a team, and there is an informal vote." She thinks this collaboration is helpful because "you're comparing ideas across asset classes and geographies rather than being focused on one special area, and you are able to benefit from the experience of the entire team."
Schwab thinks she brings some unique attributes to investing because of her background. Her mother was a surgeon, her father an engineer, and "I grew up in a family that read a lot and discussed books and ideas." As she was growing up in the last days of the Soviet Union, she says, "You could see the economy was unstable," and moreover, "The universities were not operating well, so I had to get out if I wanted a meaningful education." She started out at the American University in Bulgaria. She was a George Soros scholar, an honor awarded by the Open Society Foundation Soros had established in Eastern Europe, and after two years there, she wrangled other scholarships and transferred to the University of Maine in Orono.
"I came to the U.S. with a piece of paper that said I had a scholarship. I was 20 years old; I had never lived anywhere but in Albania and, briefly, in Bulgaria. When I came here, it was the equivalent of a Martian landing on earth. It was the scariest thing I had done, and that has helped sustain me because nothing else was as scary." She adds, "I think I'm a good investor because I maintained the same open-mindedness and intellectual curiosity to not make assumptions about anything or anybody."
She says her interest in finance is "a byproduct of great professors I had," both at the American University in Bulgaria and in Maine. Moreover, at Maine she was actively involved with other students in investing a pool of donated money. "At the end of the year, we had to present our results to the Board of Trustees of the university, and that was quite real, and that piqued my interest."
Schwab and her husband, a native of Iowa whom she met in Bulgaria, moved to Boston in 2000 where he enrolled in Harvard Law School and she earned an MBA and a master's in Finance at Boston College while interning at Ziff Brothers Investments and HarbourVest Partners. She went on to spend nearly four years at Duff & Phelps and eight years at Partners Healthcare before joining BILH in September 2014.
As her career has unfolded, Schwab notes, "As a woman, I've gone from participating in meetings where the people around me were predominantly male to seeing more gender balance in my space. One of the reasons I've stayed in investing in the endowment and foundations space is there are more women as role models who have advanced to senior positions and are leading teams and portfolios."
She adds, "I'm very passionate about getting more women in finance. The excuse that 'We can't find women, but we're trying' is just an excuse. We have to collectively do better for women – and for minorities. I'm pleased to see there are more female-founded firms. I'd also like to see more funds founded by minorities." She sees progress but frets that "when I see who's going into the funnels and it's predominantly male and white, it troubles me."
Although attitudes change, she adds, it hasn't been easy: "As a working mother: I've had to manage several parts of my life including quite a lot of travel. I tell my young female analysts, 'You have to find a partner that truly supports you in all aspects.' I've had the luck of being married to a man for 25 years who is my biggest supporter and cheerleader, and at home he truly shares in raising children and managing our household." Her husband, William Schwab, is a partner at Sidley Austin, a prominent law firm.
Schwab has two daughters, age 12 and 15, and the family enjoys hiking, biking, and other outdoors activities. Her brother left Albania for New York and became a software engineer, and her parents now live nearby. "They have an apartment 10 minutes from where we live. We were seeing each other frequently, but this year we've been quarantined together. They've been in our pod. "
Schwab says, "I haven't spent this much time with my parents in a long time. It's been strange, but it's been wonderful. We've been able to share dinner with them, and to hear them tell stories to my daughters. There's a transfer of history that I never thought possible, so that has been a fairy tale almost; it's been the silver lining of our lockdown." She adds, "it helps that we all get along." But she complains with mock indignation: "My parents are wonderful grandparents and close to my daughters to the point where I don't recognize them anymore. Growing up, I certainly wasn't given chocolate for breakfast, but my kids routinely get chocolate for breakfast, when the parents are not looking."
But Schwab is adapting to these new family realities as she has adapted to so many other things. "I was born in a Communist country, and that beginning has informed my journey because I came here and had to learn everything," she says.
To discuss the content of this article, further engage with the author(s), or gain access to like content Join The Conversation Here if you are a member of the group, or Request Membership.