Log in
to post comments
The Future of Work 
Institutional Investor's Allocator Intel hosted "The Future of Work: An Allocator Roundtable," based on an exclusive survey answered by more than 170 allocators. After a year in which Covid-19 has altered working environments globally, the investor- and consultant-only network conducted a survey from July 30 to August 21, presented by Kashif Siddiqui, CFA, Senior Vice President and Chief Investment Officer, CRICO/RMF (Risk Management Foundation of the Harvard Medical Institutions Incorporated) and Brian Neale, Vice President of Investments, University of Nebraska Foundation, alongside Institutional Investor's Michael Corcoran, Global Director of Content and Editor-in-Chief of the Thought Leadership Studio, and Sam Knox, Managing Director of Custom Research.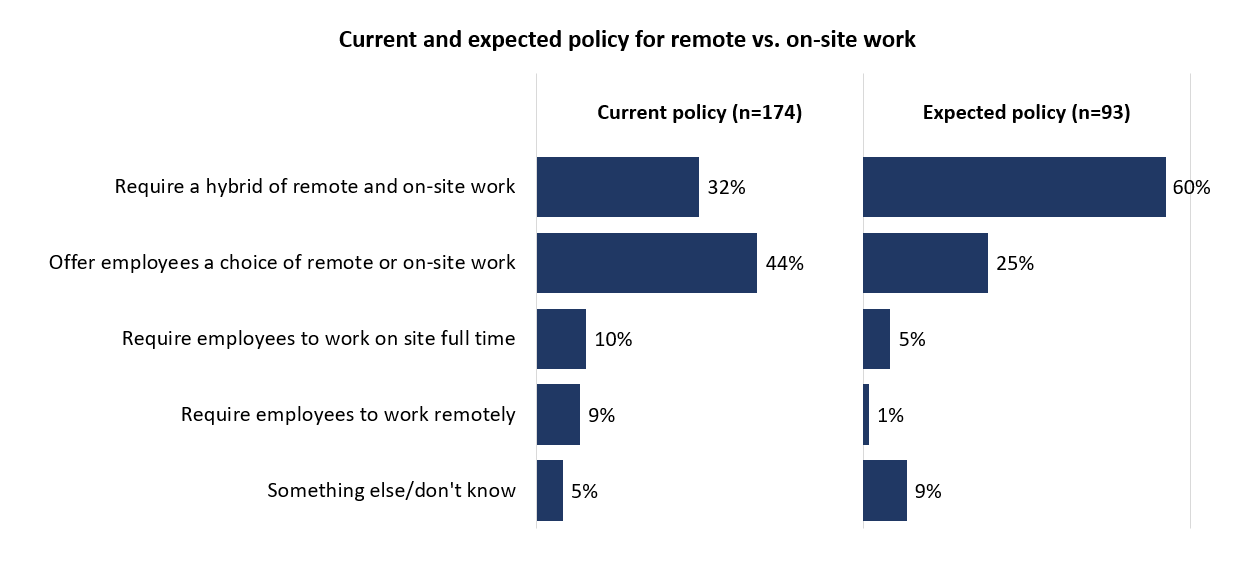 Across the 174 responses, 43% were from Europe, 40% from North America, 13% from Asia-Pacific, and 3% from elsewhere. In terms of fund type, 23% respondents represented consultants; 33% represented pensions (21% private and 12% public), and 12% represented insurance companies. In total, 43% of the institutions had more than $25 billion in assets under management; 34% had less than $5 billion; and 23% had between $5 billion and $25 billion.
As firms have opened offices amid increased vaccine availability, 68% of the survey respondents estimated that they would return to a daily or near-daily presence by the end of 2021, divided among 32% surveys who have already returned to the office, 17% who expect to by Q3 of 2021, and 19% who plan to by Q4 of 2021.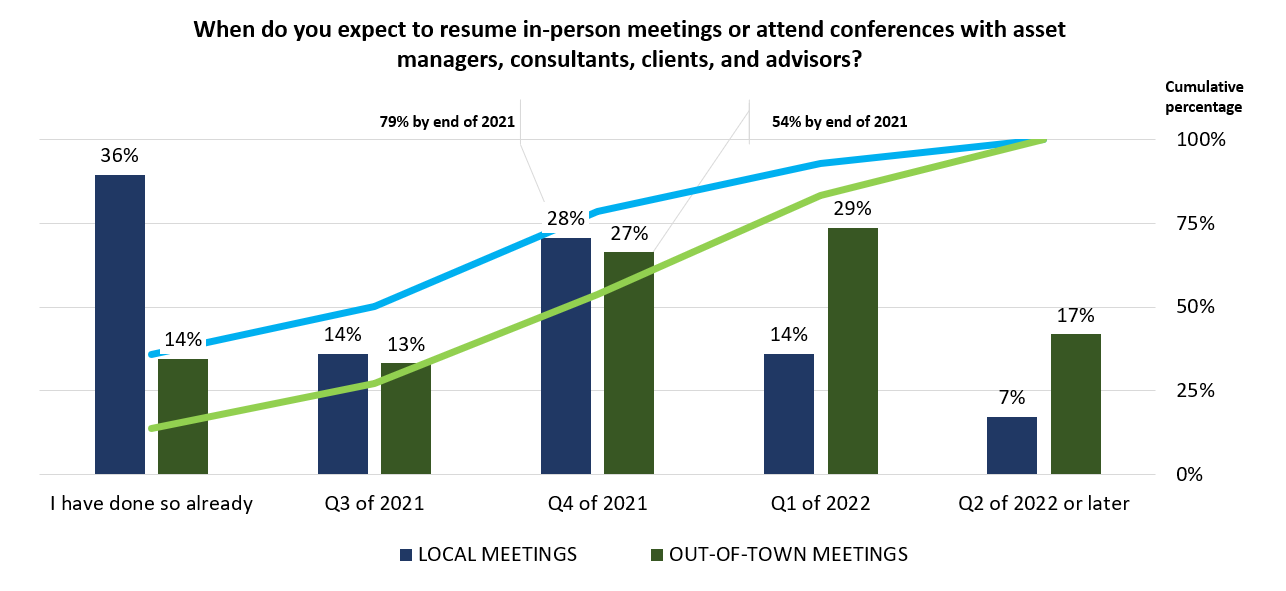 Currently, only 10% require employees to work on site full time, whereas 32% require a hybrid of remote and onsite work, 44% offer employees a choice of remote or on-site work, 9% require employees to work remotely. Going forward, 60% expect the policy to be a hybrid of remote and onsite work, 25% expect a choice of remote or on-site work, 5% expect required full-time onsite work, and 1% expect required remote work.
With regard to business travel, 54% expect out-of-town meetings to resume in-person by the end of 2021, divided among 14% who have done so already started traveling for business, 13% who expect to by Q3 of 2021, and 27% who plan to by Q4 of 2021.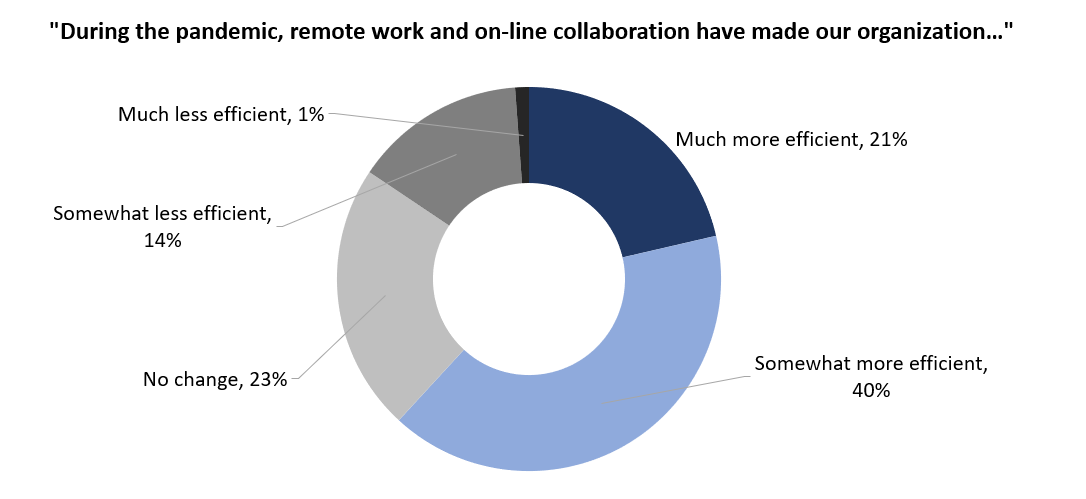 Among current staff, more than 60% of respondents experienced greater efficiency from remote work and on-line collaboration, including 21% who said their organization is much more efficient and 40% who said their organization is somewhat more efficient.
When asked about the bigger picture, areas that were strengthened included said work/life balance (92%), attracting talented staff (89%), employee retention (73%), diversity and inclusion (69%), and productivity and efficiency (66%). Weakened areas included corporate culture, which 77% said was weakened, and employee collaboration and mentoring, which 83% said was weakened.

Brian Neale of the University of Nebraska Foundation said, "I would say we're really focused on intentionality, making sure we're offering the opportunities to minorities and underrepresented parties. It's not that we have historically not focused on DEI, but in this environment, we want to be more intentional that we're allowing these conversations to happen."
Kashif Siddiqui of CRICO/RMF said, "I would say it's been difficult to isolate the impact of the pandemic on salary pressure related to investment talent. San Francisco and New York will have higher expectations than someone coming from Iowa. It's something that we see, not just with our organization, but we're obviously in touch with competitors, and we definitely see the same challenges, not just with hiring but retention."
To discuss the content of this article, or gain access to like content Sign In if you are a member of the group, or Request Membership.