Log in
to post comments
Join the conversation
Our 1st Global Top 50 Women in Investment Management Roundtable will take place on Wednesday May 19th. We feel privileged to be providing a unique setting for women and men across the globe to have discussions with one another focusing on culture, access, and visibility, to empower diversity of thought and diversity of experience.
For institutional Investor it has been an honor to share with all of you the incredible stories, first hand, directly from women in the industry. On May 19th their voices came to life during our first ever digital global roundtable; we were excited to collectively contribute to the group's overall professional and personal development on this roundtable with a featured panel on Creating a Diverse Work Culture!
Information on the event is here: LEADING the CHARGE: Women In Investment Management Digital Roundtable
We went live at 10:30 EDT, 3:30 BST, 22:30 HK. Click here to download the agenda
CHAIRPERSON  
---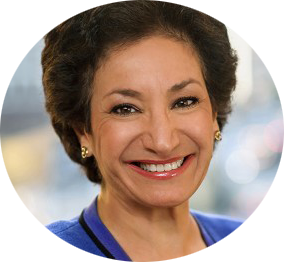 Roz Hewsenian
Chief Investment Officer
Helmsley Charitable Trust, USA
Over the course of an hour and a half, participants will have the opportunity to foster to networking with motivated and influential professionals from diverse backgrounds and generations who understand the unique position and associated challenges between the gender and the industry as well as aim to advance discussions around diversity, access, and visibility
Creating a Diverse Work Culture
---
Lisa Laird joined Hightree Advisors as Principal and Senior Advisor in order to help organizations improve investment effectiveness. She is a mission-focused institutional investment professional with nearly 20 years of experience and a passion for human services. Prior to joining Hightree, Lisa was most recently the Chief Investment Officer at Providence St. Joseph Health and was responsible for investment oversight of operating, insurance, and retirement assets totaling over $18 billion. Prior roles include senior level consulting positions at Towers Watson Investment Services and at Wilshire Associates. She has worked with both large and small organizations in a variety of governance and investment structures. Lisa is the current Treasurer and past Chairman of the Board of Directors for the Seva Foundation. Over the past 40 years, Seva-supported programs and partners have helped to restore sight to nearly 5 million people around the world. Lisa previously served on the Board of Directors for Active Wellness, a health services management company. She has also served as a member of Board of Directors' Investment Advisory Committee for CalOptima. CalOptima administers health insurance programs for low-income residents of Orange County. Lisa holds an M.B.A. from Duke University's Fuqua School of Business and a B.S. from Cal Poly Pomona. She earned the Chartered Financial Analyst designation in 2005. Lisa has been a regular contributor to industry conferences and events and was named "Woman of the Year in Investment Management" by Institutional Investor during the healthcare portion of its Roundtable for Consultants and Institutional Investors in 2017.
Well known in the UK pensions industry, Sally currently combines governance consultancy for Avida International with a number of complementary non-executive and advisory roles. / Sally is a non-executive director at insurer Royal London, at Impax Asset Management plc and Local Pensions Partnership (LPP) Limited, where she chairs its FCA regulated investment company. Until recently Sally was a trustee at the Lloyds Bank pension schemes, at the Nuclear Liabilities Fund and NEST Corporation. / Sally was previously the Chief Executive Officer of BP Pension Trustees Limited. Before BP, Sally spent twenty years with Aon Hewitt (originally Bacon & Woodrow) working both as a pensions consultant and in the investment practice. / Sally was the first lady Master of the Worshipful Company of Actuaries in 2016-17. / As well as being named in Engaged Investor's Top 50 People In Pensions 2014, Sally was featured in the Timewise Power Part-Timers list in December 2013.
Read Bridgeland's latest story here: Sally Bridgeland: Joining the Masters
Kelsey Deshler serves as Chief Investment Officer of Carleton College. She is responsible for the day-to-day management of the College's endowment portfolio and the Minneapolis-based investment office. Prior to joining Carleton, Kelsey was Head of Manager Research at BlackRock, managing a global team of investment researchers across asset classes, including traditional and alternative strategies. Ahead of her time at BlackRock, she worked at Credit Suisse Asset Management as a Portfolio Manager and Head of Fundamental Strategies Research, overseeing equity long/short, event driven and distressed credit strategies globally. She joined Credit Suisse from General Motors Asset Management where she was an Investment Analyst on the pension's Absolute Return portfolio. Kelsey started her career in finance as a Hedge Fund Research Analyst at CTC Consulting. A native Minnesotan, Kelsey graduated from the University of Minnesota, with a B.S. degree in management and French. She also holds an M.S. degree from the New York University Stern School of Business, with a concentration in finance.

Read Deshler's latest story here: Giving it the old college try
Geraldine Jimenez has over 26 years of public pension and investment management experience. Ms. Jimenez began her career at CalPERS and has experience in asset allocation, multi-asset strategies, and stakeholder engagement. Ms. Jimenez joined CalSTRS in 2015 as Portfolio Manager reporting to the Deputy Chief Investment Officer (DCIO) responsible for Investment Branch engagement activities. Ms. Jimenez oversees and provides assistance to the Chief Investment Officer, DCIO and the senior investment management team on external matters such as environmental, social, governance, geopolitical, labor and in-state investment issues. Ms. Jimenez works closely with the CalSTRS Communications and Governmental Relations divisions and represents the Investment Branch as a liaison for all external investment matters. Her responsibilities include research and market analysis, interacting with internal and external investment managers, external advisors, consultants, industry peers and stakeholders. Ms. Jimenez participates on several internal investment committees such as the tactical asset allocation and risk allocation committees.Ms. Jimenez holds the Chartered Financial Analyst (CFA) designation and is a past President/Board member of the CFA Society of Sacramento. Ms. Jimenez has a Bachelor of Science degree from California State University, Sacramento in Business Administration with a minor in Economics. She is a board member for a California non-profit organization providing services to at-risk young adults.

Read Jimenez's latest story here: Teachers' Pet
"Visibility is so important for enabling diversity and inclusion in all forms. Thank you Institutional Investor and I'm honoured to be a part of this distinguished group of women and hope platforms such as this can offer inspiration and opportunities for the next generations in the investment industry," – Mathiesen

Annabell Siem Mathiesen is CEO at Mercer Norway. She has 17 year of experience within Asset Management and Consulting. Annabell holds an MSc in Investment Management from Cass Business School in London and a Bachelor in Business & Administration from Bi in Oslo.
Brandon Gill New is a Senior Portfolio Manager in OPTrust's Capital Markets Group. She oversees fundamental strategies within the plan's portfolio of external public-markets funds and serves on the Capital Markets Investment Committee. Prior to OPTrust, Brandon was a Director at BMO Capital Partners. She also spent a decade at Ontario Teachers' Pension Plan as a Portfolio Manager in the Alternative Investments Division and as an Assistant Portfolio Manager in the Public Equities Division covering EM equities. Brandon holds an MBA from London Business School and a B.A. in International Economics from Middlebury College. She is also a CFA Charterholder.
Read Gill New's latest story here: Adding Spices to the Recipe
Join the conversation LIVE on May 19
10:30 EDT | 15:30 BST | 22:30 HK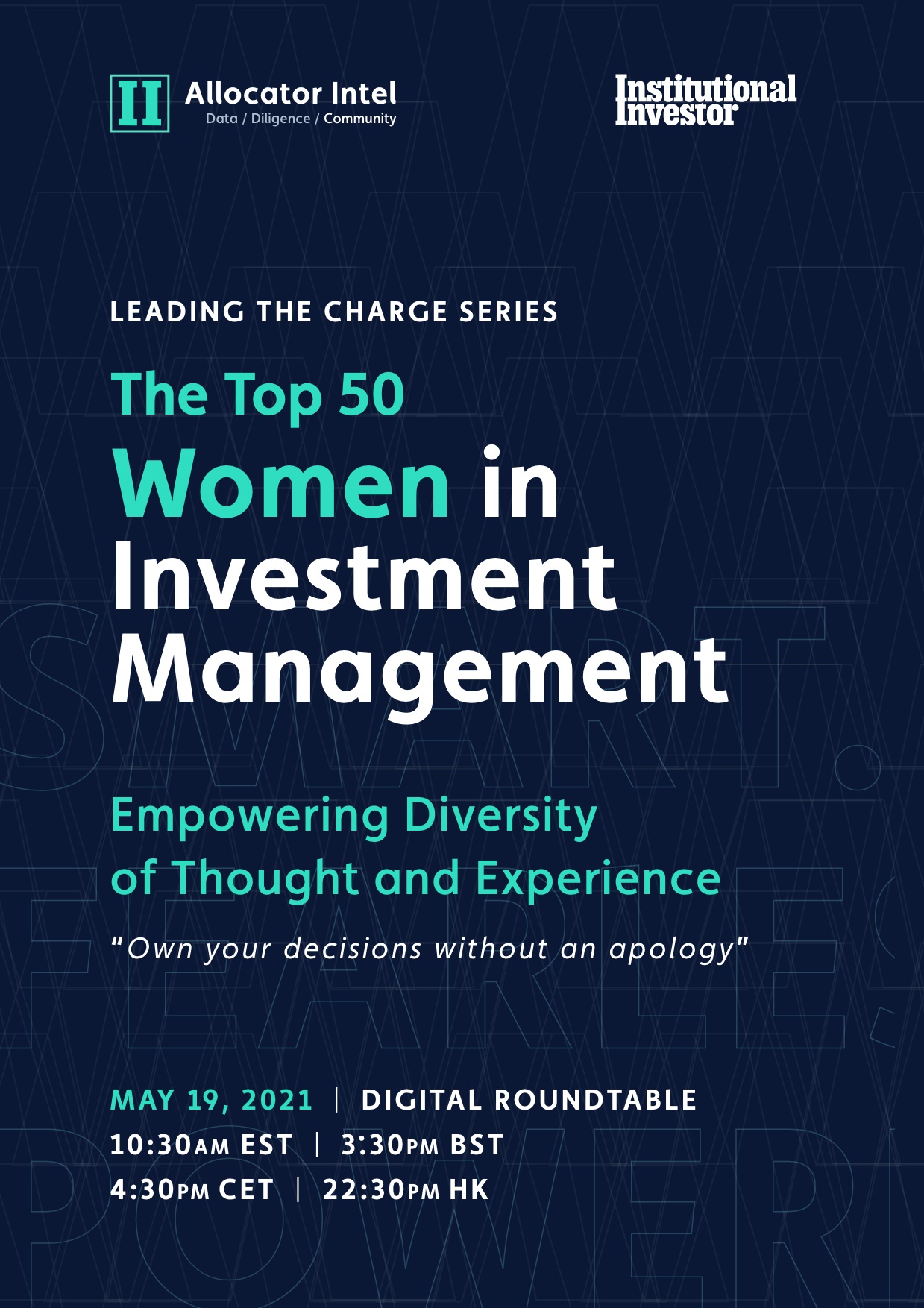 Discussions will be around culture, accessibility, and access, including an examination of the current and potential role of women, mentoring to promote inclusion and increase gender parity, and navigating career and life challenges. How investors can push for diversity when building internal teams and when hiring external managers? What does due diligence and governance look like, especially with regard to ESG? How does the industry recruit, and retain, more women through the decision-making ranks, particularly in times of crisis – like the pandemic – when it comes to parenting, working from home, and sticking to or deviating from one's intended career path?