Log in
to post comments
You Can Go Home Again
Who says you can't go home again? When Kelli Washington left her native Cleveland 30 years ago, she was a bright teenager going off to Washington University in St. Louis on a scholarship and the Cleveland Clinic was a highly regarded hospital group serving Cleveland and northern Ohio.
But she came back to Cleveland in 2017 to go to work at the health system, and by then she was a highly regarded investment professional. Meanwhile, the Cleveland Clinic was still one of the world's leading medical centers, but now it had a network of hospitals and outpatient facilities that extended well beyond Ohio to include five hospitals in Florida and others in Las Vegas, Toronto, and Abu Dhabi -- and one opening in London.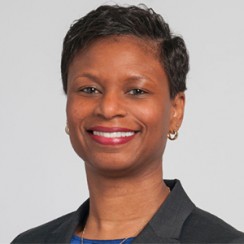 Washington, who heads research and investment strategy at the Clinic's Investment Office, is part of a 22-person team that oversees some $13 billion, divided among three portfolios: There's a long term investment pool (LTIP) with $11 billion, plus another $1.5 billion in pension assets, and a couple hundred million in a self-insurance pool. She says, "The asset allocation for the LTIP is roughly 28% public equity, and that's across all the different regions; and then we've got 16% to private markets, and that includes venture capital, PE and private credit, 29% in fixed income, and the vast majority is high quality investment grade. We've got 12% to real assets, both public and private. Then there's 14% to absolute return or hedge fund strategies. And that leaves 1% for cash."
It's all managed externally with a fleet of nearly 90 managers. The pension fund, meanwhile, is fully funded, with 75% fixed income, and 25% growth assets including equities, hedge funds, and a modest amount of private credit.
Although the Cleveland Clinic is celebrating its 100th anniversary this year, Washington and her colleagues in the investment office are essentially running a startup: The assets were managed by an "outsourced chief investment officer (OCIO)" until April 1, 2017. The current CIO, Stefan Strein, came on board at the end of 2015 and went on to create what became a fully discretionary internal investment office, "so most of the team has been working at the health system for four years or less," Washington says. "I was number seven or eight on the team he hired; the other 15 people have been here less than four years. We've really spent the last four years getting the portfolio to where we want it to be."
Washington says, "My role is focused on the big picture: I work very closely with the CIO and the senior leadership to think about what the asset allocation is and should be across the pools we're responsible for, thinking about the extent we want to underweight or overweight the asset allocation, and thinking about thematic investing: Are there interesting places where we might want to commit capital?"
She adds, "One of the things we're working on is our fixed income allocation." While the yield on fixed income is modest these days, Washington explains, "We need to maintain a high allocation to fixed income. Our credit rating, which is assigned by various rating agencies, is linked to the liquidity of the institution, and the long-term portfolio is considered to be part of the liquidity profile of the institution, so we get credit for the fixed income in a way we wouldn't for other assets in the portfolio."
Meanwhile, she says, "Given where other valuations are, it's really tough to find opportunities. The places we're thinking about are probably not materially different from other asset owners. We're thinking about value and about small cap. One of the things I was involved with a few years ago was a search for a small cap manager, and that's really starting to pay dividends. But at this point we're thinking, 'Are we going to return to a period favoring growth, and if there's a chance that that will happen, are we positioned in such a way that we'll benefit?'"
She adds, "The other place we're having discussion is around the private side of things. As the markets have rebounded from COVID, we've seen our PE valuations increase, so we're thinking about, 'How do we manage that allocation in such a way that we're continuing to participate in areas that we think are going to give us great returns?' but we're also cognizant of the fact that we don't want to get over our skis and allocate too much."
Washington is part of a wave of women who have entered the relatively new world of healthcare endowment management. She says, "I think that there are more women in the industry overall than when I started. But there are still challenges, and some of them are related to the old things that have always existed around women and careers and family and finding ways of working."
In asset management, she says, "We are very competitive people focused on generating returns," and while there are still the traditional concerns about female commitment, "I think we've seen women are able to give the time and energy required to do their job well, and also be spouses and sisters and parents and mothers and grandmothers."
What's helped Washington navigate the financial world is "the mentors in my life," she says. "There have been both men and women along the way; people I keep in touch with today. One of my key mentors is the former Dean of the Olin Business School at Washington University. I've known him since I was 18 years old. Another mentor was my scholarship sponsor as an undergrad. He's a retired partner from Edward Jones; he was the first African-American partner at that firm." She also credits Barbara Feiner, the now-retired CFO of Washington University, and Pamela Campbell, also formerly of Wash U: "They introduced me to several people. They were instrumental in getting me where I am today."
As Washington's career has unfolded, she found "being a woman is still an issue," even in the supposedly more progressive endowment and foundation world: "I've found there are more women, but the number of people of color remain very small: I regularly attend conferences, where I'm the only minority in the room. There are often days where I look around the room, and I am disappointed that our industry has not been able to do better."
But she adds, "That's the way that it's been my entire life, literally from when I was in grade school, so I am accustomed to it." She has noted she was the only person of color when she took her CFA exams. And after passing them, she realized she didn't know a single other Black person who held the CFA designation.
Washington was born and raised in Cleveland and after graduating from Washington University, she went to work for Edward Jones, which was headquartered in St. Louis. The firm has a flotilla of what are often one-person offices scattered across the U.S. She did due diligence on mutual funds and advised on portfolio management. Historically, the firm hasn't commingled client assets but rather advised on thousands of individual portfolios.
She says, "Probably around Year Eight, I realized while I enjoyed investing, I didn't enjoy doing it for individuals. I often say I didn't want to just make rich people richer; I really wanted to use my skills to do it for a mission, so that's when I reached out to my mentors and said, 'I really want to talk to you about how I might get into the nonprofit world.'" To help with the transition, she entered Yale in 2004, 10 years after graduating from college. "I picked Yale because David Swensen taught a class that I really wanted to take, and also Yale has a history of producing endowment managers, including Andy Golden at PRINCO (which runs the Princeton endowment). And Paula Volent (of Bowdoin) and Ellen Schuman (who has been at the Yale endowment and Carnegie Corporation of New York) were Yale School of Management alumni. She was older than many of his classmates, she recalls, but that helped her be more focused.
At Yale, she adds, "I was fortunate also to be a part of the Robert Toigo Foundation's program," which works with minority students. Through that, "I had a mentor assigned to me," she says, adding, "I don't know anything about alternatives," so my mentor helped me get an internship with General Atlantic, the private equity firm, and I had some awesome experiences working there." She then did a short stint at the Bowdoin College endowment before joining Cambridge Associates for a nine-year period starting in 2007. At Cambridge, she began working with several of its nonprofit clients and "had a fantastic time."
When she got an introduction to the Cleveland Clinic, it was a homecoming for her. Now she lives 20 minutes from her parents. "I'm the oldest of three children, and we all grew up here and left the nest, and I'm the only one who came back. We're a close-knit close family, so we spend time together -- or we used to before COVID," she says.
COVID has also interfered with her two favorite recreations: "I love to travel, and with travel, one of the things I've picked up is I learned to scuba dive in 2014. That's become one of the things I love traveling for." She had been planning a diving trip to Bonaire for 2020. She says wistfully, "My last international trip was in 2019. I took my parents on a Washington University travel program. It was a 10-day trip called the African-American Experience in Paris, and it was about the history of African-Americans in the arts: writers, dancers, singers, and how jazz came to Europe. It was an amazing trip. Richard Wright, Josephine Baker -- they were all in Paris."
Despite the wanderlust, she says, "It's funny: When I'm home, I'm definitely a homebody." Her father and sister were both professional cooks, and Washington is a bit of a foodie, eager to try new restaurants or host occasional dinner parties.
But Washington is focused on giving back, in both large ways and small. She's on the Board of Trustees of Washington University where once she was a scholarship student. She identifies with the now-global mission of the Cleveland Clinic, but she's also eager to mentor men and women one by one, to nurture their professional development just as she believes hers was nurtured.
To discuss the content of this article, further engage with the author(s), or gain access to like content Join The Conversation Here if you are a member of the group, or Request Membership.